Santegidio e-Learning Academy: Log in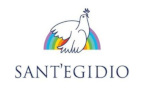 Some courses may allow guest access
Is this your first time here?
Benvenuti sul sito di formazione a distanza gestito dalla Comunità di Sant'Egidio.

Puoi creare il tuo account in autonomia usando la funzione "Crea un account". Per accedere ai diversi progetti e corsi dovrai però ricevere una password speciale che ti verrà comunicata dal tuo referente.

Feel free to create your account yourself using the "create an account" button.To access the different projects  you will need a special password that will be communicated to you by your contact person.